Invocation to Lord Ganesh Before Starting Any Activity

Vakra-Tunda-Mahakaaya, Surya-Koti-Sam-Prabhah. Nirvighnam-Kuru-Me-Deva, Subha-Karyeshu-Sarvadaa.
- O elephant headed and large bodied Lord, radiant as a thousand Suns, I ask for your grace so that this task that I am starting may complete without any hindrances.
New Year Greetings

Surya Samvednapushpayeh Deeptih Karunyagandhane, Labdhva Shubham Navvarshesmin Kuryatsarvasya mangalam.
- As the sun gives light, sensibility brings compassion, flowers give pleasant fragrance, may the new year be auspicious
Guru Mantra

Gurur Brahma Gurur Vishnu Gurur Devo Maheshvara Gurur Shashaath Para-Brahma Tasmai Shri Guruve Namah
- I prostrate to that Sri Guru, who is himself Brahma, Vishnu, and God Maheshvara, and who is verily the Supreme Absolute itself.

Tvameva Mata Cha Pita Tvameva
Tvameva Bandhuscha Sakha Tvameva
Tvameva Vidya Dravinam Tvameva
Tvameva Sarvam Mama Deva Deva
- O Lord! Thou art my mother and Thou art my father also;
Thou art my relative and my friend Thou art;
Thou art knowledge and wealth unto me;
Thou art my all-in-all, O Lord of Lords.
Early Morning Prayers

Karaagre Vasate Lakshmeeh, Karmadhye Saraswatee.
Karamoole tu Govindah, Prabhaate kara darshanam.
- The front of hands (i.e. finger tips) is ascribed to Laxmi (Goddess of wealth), the middle of the hands to Saraswati, and the root (i.e. part of hands near to the wrist) to Govinda. Therefore, every morning one should respectfully have a look at one's hands (which symbolizes honest labor).

Samudra vasane Devi, parvata stana mandale
Vishnupatni namastubhyam, Paada sparsha kshamasvame.
- O! Mother Earth, who has the ocean as clothes and mountains and forests on her body, who is the wife of Lord Vishnu, I bow to you. Please forgive me for touching you with my feet.
Daily Prayers
Lighting the Lamp

Shubham karoti kalyanam aarogyam dhanasampada,
Shatru buddhivinashaaya deepajyotir namostute.
- I salute the One who is the lamplight, that brings auspiciousness, prosperity, good health, abundance of wealth, and the destruction of the intellect's enemy.
While Taking a Bath

Gange cha Yamune chaiva Godavari Saraswati,
Narmade Sindhu Kaveri jalesmin sannidhim kuru.
- In this water, I invoke the presence of holy waters from the rivers Ganga, Yamuna, Godavari, Saraswati, Narmada, Sindhu and Kaveri
Before Starting Your Studies

Saraswati namastubhyam, Varde kaamaroopini,
Vidyaarambham karishyami, Siddhirbhavatu me sada.
- O Goddess Saraswati, salutations to you, the giver of boons, the one who fulfills all desires. I begin my studies. May there always be accomplishments for me.
Night Prayer

Kara Charana kritam vaak kaayajam karmajam vaa
Shravana nayanajam vaa maanasam vaa (a) praadham
Vihitamvihitam vaa savametat kshmasva
Jaya jaya karunaabdhe Shree Mahadeva Shambho
- Oh Lord kindly forgive my wrong actions done knowingly or unknowingly, either through my organs of action (hand, feet, speech) or through my organs of perception (eyes, ears) or by my mind. Glory unto Thee O Lord, who is the ocean of kindness.
Surya Namaskar Mantra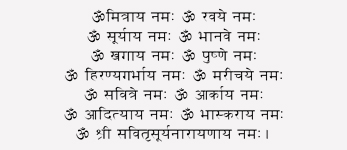 Om Mitraaya Namah, Om Ravaye Namah,
Om Suryaaya Namah, Om Bhaanave Namah,
Om Khagaaya Namah, Om Pushne Namah,
Om Hiranya-garbhaaya Namah, Om Mariche Namah,
Om Savitre Namah, Om Aarkaaya Namah,
Om Aadityaaya Namah, Om Bhaaskaraaya Namah.
Om Shree Savitrisoorya Narayanaaya Namah.
Salutations to Him who is my friend. Salutations to Him who is the cause for change.
Salutations to Him who propels everyone into activity. Salutations to Him who is in the form of light.
Salutations to Him who moves in the Sky. Salutations to Him who nourishes all.
Salutations to Him who contains everything. Salutations to Him who possesses rays.
Salutations to Him who is the son of Aditi. Salutations to Him who produces everything.
Salutations to Him who is fit to be worshipped. Salutations to Him who is the cause of luster.
Bhojan Mantra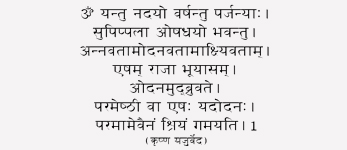 Yantu Nadayo Varshantu Parjanyaah, Supippalaa Oshadhayo Bhavantu,
Annavataam Odanavataam Amikshyavataam, Eshaam Raaja Bhuuyaasam
Odanmudbruvate. Parameshtii Vaa Eshah Yadodanah.
Paramaamevainam Shriyam Gamayati.


Maa Bhraata Bhraataran Dwikshan, Maa Swasaaramutaswasaa,
Samyancha Savrataa Bhuutvaa, Vaacham Vadata Bhadrayaa

Brahmarpranam Brahma havir Brahmagnau Brahmana hutam
Brahmaiva tena gantavyam Brahma karma samaadhinaa
- Any process of offering is Brahman, the oblation is Brahman, the instrument of offering is Brahman, the fire to which the offering is made is also Brahman. For such a one who abides in Brahman, by him Brahman alone is reached.

Aham Vaish-vaanaro Bhutvaa, Praaninaam Deham-aashritah, Praanaa-paana-Samaayuktah, Panchaany-anam, Chatur-vidham.

Om sahanavvatu saha nau bhunaktu, saha veeryam karavaavahai Tejasvinavadhitamastu ma vidvisha vahai Om shantih, shantih shantih
Prayer to Mother Shakti

Ya Devi Sarva-bhuteshu, Shakti-rupenu-sansthitaa,
Namastasyae, Namastasyae, Namastasyae, Namaho-namah.
- O Mother, who is present everywhere, who is the embodiment of Power and Energy, I bow to you, I bow to you, I bow to you.
Prayer to Mother Gauri

Sarva managala mangalyai shive sarvartha sadhike
Sharanye trayambake gauri naaraayani namo-stute
- Adorations to Goddess who is the auspiciousness of all that is auspicious, who is the consort of Lord Shiva, who is the bestower of every desire of one's heart. Adorations to You O Devi, I have taken refuge in you.
Prayer to Mother Saraswati

Ya Devi Stuyate Nityam Vibhuhairvedaparagaih
SaMe Vasatu Jihvagre Brahmarupa Saraswati
- Sarasvati, the Goddes of Knowledge, who is praised by the wise who have mastered the Sastra, who is the wife of the Creator, may she live on the tip of my tongue.
Prayer to Ma Lakshmi

namastestu mahaa maaye, shripeete surapoojite
shanka chakra gadaa haste, mahaa Lakshmi namostu te
- alutations to you, O Mahalakshmi, who is all powerful, who is the seat of wealth, and who is worshipped by the Gods and who has a conch, a disc and a mace in her hands.
Prayer to Lord Shiva

Om, Trayambakam-Yajaamahe-Sugandhim-Pushti-Vardhanam,
Urvarukam-iva Bandhanan-Mrityoram-Ukshiya-Maamritaat.
- I worship the fragrant three-eyed one who nourishes all beings; grant me liberation in the same manner as a ripe cucumber naturally severs itself from the vine.



Karpura-gauram Karunaavataaram Samsaar Saaram Bhujagendra-haram, Sadaa
Vasantam Hridyaarvinde Bhavan Bhawaani Sahitam Namami
- He who is fair like camphor, who is ever compassionate, by whose being the entire universe exists, around whose neck there is a garland of serpents, may he always live in my heart along with Bhavani, his consort. I bow down to him.





Vande devam umaapatim suragurum vande jagatkaaranam,
Vande pannaga bhooshanam mrigadharam vande pashoonaam patim.
Vande soorya shashaanka vahninayam vande mukunda priyam,
Vande bhaktajanaashrayam cha varadam vande shivam shankaram
- Adorations to the Lord of Godess Uma, Adorations to the cause of the universe.

Prayer to Lord Shiva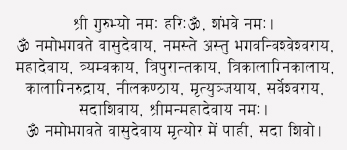 Shri Gurubhyo Namah, Harihi Om, Shambhave Namah,
Om Namo Bhagwate Vasudevaya, Namaste astu bhagavan visveshvaraya Mahadevaya Tryambakaya Tripurantakaya Trikalagnikalaya Kalagnirudraya Neelkanthaya Mrityunjayaya Sarveshvaraya Sadashivaya Srimanmahadevaya namah.
Om Namo Bhagwate Vasudevaya Mritryora Me Pahi, Sada Shivo.

- Salutations to Thee, O Lord, the Master of the universe, the great Lord, the three-eyed one, the destroyer of Tripura, the extinguisher of the Trikala fire and the fire of death, the blue necked one, the victor over death, the Lord of all, the ever auspicious one, the glorious God of Gods.
Prayer to Lord Mahavir

Mahaamohaantaka prashamana paraakasmik bhishak,
Niraapekshee bandhur-vdita mahimaa mangalakarah.
Sharanyah saadhoonaam bhava-bhaya bhritaamuttam guno,
Mahaveer swaamee nayana pathagaamee bhavatu nah.

Prayer to Lord Ganesh

Shuklaambaradaram Vishnum, Sashivarnum chaturbhujam,
Prasannavadanam dhyayet, Sarva vighnopashantaye.

- Lord Ganesh, who wears a white garment, who is all-pervading, who has a bright complexion, who has four arms, who has an ever smiling face, upon that God, I meditate for removal of all obstacles
Prayer to Lord Vishnu

Kaayena Vaachaa Mansendri-yairvaa, Budhyat-manaa Vaa Prakriteh
Svabhaavaat Karomi Yadyat Sakalam Parasmai, Narayana-yeti Samarpayami
I dedicate everything to that supreme Lord Narayana; whatever I perform with my body, speech, mind, limbs, intellect or my inner self either intentionally or unintentionally.



Shaantaakaaram Bhujagshaynam Padmanaabham Suresham,
Vishvaadhaaram Gagan Sadrisham Meghavaranam Shubhangam.
Lakshmi-kaantam Kamal-nayam Yogibhir-dhyan-gamyam,
Vande Vishnu Bhav-bhaya-haram Sarva-lokaika Naatham

- I adore Lord Vishnu who is the embodiment of peace, who lies on the Shesha serpent, whose navel is the source of the Lotus, whose complexion is swarthy like the clouds, whose body shines with heavenly beauty, who is the beloved of Goddess Lakshmi, whose eyes are like lotus, who is meditated upon by the yogis, who is the remover of the fear of he world-process.



NamassamstaBhutaanaam AditBhutaya Bhubhrate,
Anekaruparupaya, Vishnave Prabhavishnave.
Salutations to the Lord Vishnu, who is the creator of all beings, the sustainer of the creation, whose form is all forms, who is all pervasive, and who is self-effulgent.
Prayer to Lord Subrahmanya

Gyan-shkatidhar skand valle kalyana sundara,
Devasenaa manah kannta kaartikeya namo-stute
- Adorations to Lord Kartikeya who is know as Skanda, who holds the staff of wisdom, who is the beautiful beloved of Goddess Valle, Who is the enchanter of the mind of Goddess Devasena, to that Divine Kartikeya I offer adorations again and again.

Prayer to Lord Krishna

Vasudeva-sutam Devam Kamsa-chaanura-mardanam.
Devaki-parmanandam Krishnam-vande-Jagadagurm
I bow to you O Krishna, the Supreme Guru, Son of Devaki and Vasudeva, the remover of Kamsa and Chanur.



Akashataat patitam toyam yathaa gacchati saagaram
Sarvadeva namaskaraara keshavam prati-gacchati
Just as every rain --DROP that falls from the sky flows into the Oean, in the same way every prayer offered to any Deity flows to Lord Krishna.
Prayer to Lord Rama

Raamaya raama bhadraaya, raamchandraaya vedase, raghunaathaya
naathaaya, siitaaya pataye namah.
My salutations to Lord Sri Ram, the protector of all, one who knows all, the descendent of the Raghu dynasty. the husband of Sita and the Lord of the entire universe



Shree Raamchandra charanau manasaa smaraami,
Shree Raamchandra charanau vachasaa granaami,
Shree Raamchandra charanau shirasaa namaami
Shree Raamchandra charanau sharnam prapadye
I worship the feet of Sri Ramchandra ji in my mind, I worship his feet with my speech, I bow my head to his feet with great reverence, I surrender myself to his presence.
Prayer to Lord Hanumaan

Manojavam maaruta tulya vegam jitendriyam budhhimataam varishtam
vaataatmajam vaanara yuuthamukhyam shrii raamduutam shirasaa namaami
- I salute Hanumaan, who travels as fast as the mind and the wind, who has mastered his sense organs, who is the best among the intelligent, who is the son of the wind God, who is the commander-in-chief of the army of vaanaras, and who is the messenger of Sri Ram.

Atulit baladhaamam hemashailaabhedam Danujvan krishaanum
jnaaninaanagraganyam, Sakalaguna nidhaanam
vaanaraanaamdheeham, Raghupati priyabhaktam vaatajaatam namaami
- I adore Lord Hanuman, the son of Wind-God, who is the abode of Incomparable strength, whose body shines like a mountain of gold, who is fire unto the forest of demons, who is the chief among the wise, who is the beloved of Bhagvan Rama.
Affirmations
Affirmation #1
Hello ! Let's Get Going! :) You're Probably Already A Highly-Motivated Person And a Positive Thinker, OR ... Maybe Not as Positive As You Wish To Be?In either case, You probably want to get even better at it! And That's What I Want For You, Too! So, Here's Your First Affirmation: I'M A HIGH ACHIEVER This is kind of a natural beginning. It's no big surprise, but it is a GREAT Place to start! Please Be patient ... AND Give Yourself Time to "Be With" each thought. RELISH Each Affirmation All Day! (Every Day, If You Can) Repeat It: I'M A HIGH ACHIEVER Take it inside yourself ... and LET IT BE TRUE For YOU (for a few moments - at the very least)! OK? I'M A HIGH ACHIEVER The Truth Is - You ARE! (... even if You don't know it, yet) "Be Kind To Yourself, and ... Have A Terrific Day!"
Affirmation #2
Hi There ! Are You Ready for Affirmation #2 of 105? Here You Go: I'M HAPPY WITH WHO I AM AND WITH WHAT I DO Please try to remember to repeat this sentence to yourself ALL DAY today, here and there ... In every odd moment you can ... That's your goal with each sentence Every Day. Repeat it, repeat it, repeat it. Breathe it in, and breathe it out. OK, So what does this particular affirmation really mean? What does it mean to be Really Happy with Who You Are? And with what You Do? For me, sometimes I find it to be a challenge. Sometimes those negative voices inside me just want to "have their way" with me. This affirmation helps me to get grounded. To get solid. What about you? What might be possible for you if you REALLY FELT This Affirmation Strongly? REALLY BELIEVED IT? You don't "have to" believe it yet ... At least not all the time! But it could be a nice place to begin, Couldn't it? So, Try telling yourself this affirmative statement all day long today, and whenever you can in the future. I'M HAPPY WITH WHO I AM AND WITH WHAT I DO I'm looking forward to talking with you again soon!"YOU ARE A Miracle!" Try to use your breathing as a reminder of repeating your affirmation to yourself throughout the day. Breathe in your affirmation, and then silently say it again to yourself as you breathe out.
Affirmation #3
I LOVE BEING A HIGH ACHIEVER Give yourself the gift of this thought today - even if you're not sure it's true, yet. "I Love You! Stay With This, Because The World Is Waiting For Your Gifts!"
Affirmation #4
Hi There ! Here's Your next Affirmation: I LOVE BEING ME This is a good one to remember, isn't it? If you're one of the lucky people who already feel this way about yourself, then WOW! Fantastic! :) A thought like this can be deceivingly simple. Please dwell on it throughout the day, today, and SMILE to yourself, knowing that it's TRUE! If you're someone who doesn't fully feel this way about yourself, then you're not alone ... AND you get to pretend today! I LOVE BEING ME "Rembember to breathe and repeat this beautiful idea to yourself all throughout the day today and in the weeks and months ahead ! "
Affirmation #5
BEING A HIGH ACHIEVER MAKES ME HAPPY OK, You can smile all day long with this one, too! And we haven't even gotten to the good stuff yet. The Truth Is That We're About As Happy As We Choose To Be, So Choose Happiness For Yourself. You Totally Deserve To Be Happy ... Now ... And Always! Be Patient With Yourself & With Others. Enjoy This Wonderful Journey Of Life!
Affirmation #6
"Enjoy Today's Affirmation!" This one's so simple AND so important: I'M HAPPY JUST BEING ME Why not? There's no one else like YOU! No one else knows how to BE YOU! They can't even imitate You very well, can they! Why not be happy about being Yourself? You're GREAT at it! And YOU don't have to be like anyone else! You can simply be yourself. What a relief! I'M HAPPY JUST BEING ME Please recite this sentence to yourself throughout the day today. "And allow it to be VERY True for YOU Today!"
Affirmation #7
BEING A HIGH ACHIEVER IS BEING HAPPY ABOUT WHO I AM Yes, so true, AND often forgotten. I think that's the whole point of these beginning affirmations, and it's why we're spending so much time on them. Achievement is often confused with DOING. Doing, doing, doing - and nothing more. I believe it has a LOT to do with "how we BE." ... and it matters HOW YOU ARE with Yourself. So, be kind to Yourself. AND LIVE This Affirmation TODAY. "Love and Joy To You and Your Family!"
Affirmation #8
Hi There ! Here's an important basic: I LOVE MYSELF This is where it all begins. PLEASE Master This One, if you haven't already done so. Do Something Nice FOR YOURSELF Today! Be KIND To Yourself Today, and ALL Week, Too! What a GIFT this can be to everyone who knows you. "Take good care of Yourself today."
Affirmation #9
Hi There ! How are You, Today? Here's Your Next Affirmation: I LOVE WHO I AM Similar to yesterday's, and yet so important! What are your strengths? What makes you unique or different? I suspect some of the strongest clues to your strengths are there - among your most unique qualities. Embrace Yourself - ALL of Yourself. Claim Your Weaknesses as being Your Greatest Strengths! "I hope you fully appreciate yourself and who you are, ALL DAY LONG, Today."
Affirmation #10
Hi There ! Here's the next one for you: I LOVE WHAT I DO What does this affirmation mean to you? Yes, it could refer to what you do for work. And it also could apply to what you do for play... OR what you do with your friends, your family or with anyone. Or it could include all of the above. Notice today, the moments when you ARE loving what you do, AND when you are NOT. What might it be like for you, if you could love whatever you're doing, every moment of the day? "Wishing You ALL The Best, Every Moment!"
Affirmation #11
Hi There ! I hope You are ready for a SUPER DAY, today! Here's Your Affirmation for today: I HAVE A BURNING DESIRE FOR SUCCESS This is what gives you the momentum to go through your greatest challenges. What is success to you? The funny thing is that it's different for everyone! If you're devoutly religious, success for you may be "knowing the lord." For someone living alone, it might be finding an ideal mate ... - OR NOT! As success for some, might mean being self-sufficient and being happy alone! For someone with health issues, success might mean staying alive & surviving. Please take today's affirmation and use it in the context of YOUR LIFE. Customize the affirmation FOR YOU! It really doesn't matter what anyone else thinks success is. The only thing that matters is what it means TO YOU! Please remember that you get to interpret each affirmation I share with You, in whatever way YOU wish! ... And by meditating on it, You can bring this special meaning OF YOURS to the forefront of Your Thinking and Your Attention. Doing this ... Greatly Increases Your Chances Of Success & of achieving Whatever You Allow Yourself to Desire! "Think & Dream BIG Things, For Yourself and For Those You Love!"
Affirmation #12
Hi There ! Are you ready for another challenging affirmation? One that might stretch you a little? Here it is: I HAVE AN EXTREMELY STRONG DESIRE FOR FINANCIAL SUCCESS How does this one sit with you? Is it true? Or is it a big stretch? Or is it actually NOT true for you? We're ALL different, and not everyone has even a tiny desire for financial success. For years and years, money was NEVER a consideration for me. I was happy being destitute and in debt. I considered myself to be a seeker of knowledge, of wisdom, of "The Truth." From an early age we're often taught that money is evil. That greed is a sin. Well, maybe so. And, maybe not. I highly recommend you embrace this affirmation - even if it isn't true for you now. A strong desire will get you moving. It will sustain you in times of challenge. It's OK to have big goals. It's OK to want abundance. Wealth doesn't have to equate to greed or preoccupation. It can afford you a means of enjoying life without stress or worry. It can allow you to express your generosity. It can be a big help to making your dreams and the dreams of your loved ones come true. So, I challenge you to be BOLD today, and take this affirmation into your heart and mind as your meditation for this week. "Wishing You Total Abundance & Joy!"
Affirmation #13
Hi There ! I don't think you'll have any problem with this one! :) I'VE BEEN SUCCESSFUL IN THE PAST Now this one WE KNOW IS TRUE! You HAVE been successful in the past, MANY TIMES! We all have. AND ... It's so important for us to remember this fact. Please dwell on this truth sufficiently this week, so you can easily build on it from here. So often, we have spent so much time dwelling on our failures, or even on our fear of failure, that sometimes we've given up on something without even trying! Sadly, that's human nature. Please do me (AND YOU) a Big Favor This Week and Try Recalling Your Past Successes, as many as you can. Even Relish Your Past Successes Right Now! And remind yourself of the above affirmation all throughtout the week.. Keep up the Good Work! ~I'm Thinking of Your Successes, too! Yep! - Even if we've never met in person, I can do that in my imagination, and I'm doing it RIGHT NOW along with You! I Want the Very Best For YOU & I KNOW You're Going to Get It! "Love and Joy to You & Your Family!"
Affirmation #14
Hi There ! I hope You're Doing Well Today! Today's affirmation builds on yesterday's: I CAN BE SUCCESSFUL AGAIN My guess is, that your greatest successes lie ahead of you. Take the time today to imagine what you want ... for yourself and for your loved ones. Build on the fact that you KNOW you can be successful again, and again AND AGAIN!!! "Be Well!"
Affirmation #15
Hi There ! Here's Your Affirmation: BEING SUCCESSFUL IS NATURAL FOR ME Now we're talking! This is where we want to be. This is what we want to feel ... DEEPLY. Breathe and Believe, TODAY ... this affirmation ... and keep it going all week long. Make It Be So! "Have A Wonderful Week!"
Affirmation #16
Hi There ! Here's this week's affirmation for you: I WILL PERSIST IN WHATEVER I CHOOSE TO DO This is one of the greatest secrets of ALL Success! You CAN make the decision that you Will Persist, even if you don't yet know what you are going to do or how to do it. Make this decision for yourself this week and notice how it feels. "Keep Up The Good Work!"
Affirmation #17
Hi There ! Today's affirmation completes last week's thought. Here it is: ... THAT'S BECAUSE I'M PERSISTENT Here's a reminder: You can change the wording on any affirmation. If you don't care for this sentence structure ... Just affirm: "I'm Persistent" (or any other variation you choose) These affirmations are seeds. They're not written in stone. Please do what it takes to make them work FOR YOU! OK, Now ... Think back and remember ... all of the times when you HAVE been persistent. There are many occasions in your life, when you've hung in there and kept going, even though the going got tough. The truth is ... YOU ARE PERSISTENT. "Breathe and Believe This Truth About Yourself This Week!"
Affirmation #18
Hi There ! Here's the affirmation you've been waiting for: I HAVE A HABIT OF TAKING ACTION Do you have a habit of taking action? If so, then GREAT! This affirmation is already totally true for you! If not, then the way to develop it begins with affirming and imagining it to already be true. The habit of taking action is a "MOST EXCELLENT" habit to have! Having a habit of taking action, can totally change your life for the better. "Please affirm this image of yourself today & all this week. And REAP The Benefits Tomorrow & for the rest of your life! Aloha"
Affirmation #19
Hi There ! Ready for this next one? I HAVE A HABIT OF BEING ORGANIZED Hmmm. This one speaks for itself, doesn't it? AND it can be challenging for some of us, can't it? :) Well ... Affirm it to be true today & all this week, and if it isn't already so, it soon will be! "Be Kind To Yourself Today!"
Affirmation #20
Hi There ! This is a good affirmation for today: I HAVE A HABIT OF BEING PRODUCTIVE We have habits, whether we want to have them or not, don't we? So, we might as well have good habits. This is a great affirmation ... AND Yes, it's important to have good habits. At the same time, I'd like to remind you that you get to interpret what this means TO YOU! It doesn't have to have just a shallow meaning of being busy, busy, busy. " Being Productive" can mean lots of things. You get to choose Your Way of Being Productive. AND ... Remember the foundation we are building upon of Self-Love and Appreciation. Being Productive doesn't mean self-sacrifice. You get to be productive AND self-caring at the same time. "Have a Happy Day Today!"
Affirmation #21
Hi There ! This is the longest one in the whole series: I REVIEW CONSTANTLY WHAT IS THE MOST IMPORTANT THING FOR ME TO FOCUS ON RIGHT NOW ... AND I ALWAYS DO WHATEVER IS MOST IMPORTANT I don't know about you, but this has always been a real challenge for me. I guess I've always been easily distracted ... usually by having so many tempting and interesting ideas that are calling out for my attention. AND ... with THIS affirmation ... it's easier to keep focused ... so long as I do review (at least daily) all of the possibilities that are calling out to me. Do you have this challenge, too? If not, you're fortunate! :) If you do, then this affirmation might be of help to you, too! If All You Did Was Re-Affirm This Affirmation To Yourself, on a continual basis ... you could powerfully move ahead with any plan or intention you might have. In fact, I think this one idea could be the central theme of a whole new set of 105 affirmations that I could put on a CD to benefit you, me & and lots of other people. OK, anyway ... you get the idea. "Have fun with this one today!"
Affirmation #22
Hi There ! Here you go with today's thought: MY DREAMS OF EXTREME WEALTH ARE ALIVE AND WELL Do you have dreams of extreme wealth? Possibly not ... In fact, PROBABLY NOT! (Although, I also know that you may already be extremely wealthy :) It's just that most people aren't ... AND most people don't even have those kinds of aspirations ... which is too bad, really. "What the mind can conceive and believe, it can achieve." That's the classic quotation from Napoleon Hill. Jesus said pretty much the same thing about the power of belief ... moving mountains and such. I know it may seem pretty unbelievable. AND I happen to think that "unbelievable" is good. If we can believe the unbelievable ... and I mean REALLY Believe it ... Then anything is indeed possible for us! Please consider how much wealth you have desired up to now (if any) and please consider the possibility of desiring much more. What could you do with it? How much good could you do for the world? What might be possible? What could you get really excited about, if only you had the wealth to support it? "Dream BIG today, my friend ... and have a Splendid Day!"